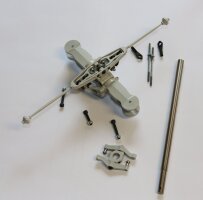 Scale
A note about our printing parts:
The "print quality" does not match the currently achievable maximum.
Our components are designed for modelers who want at a reasonable price basic parts for finishing.
In the printed HT-PLA parts from us, a more or less annoying layering can be seen.
This can be relatively easily masked with filler.

Our components can be manufactured by us in any desired scale.

Of course, we can outsource the printing for our parts to get them in perfect quality.
But that will be much more expensive and has a delivery time of at least 14-21 days.
These parts have an excellent detail and are made with PA laser sintering.