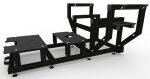 HCF-HeliCockpit Frame
Single seat chassis (kit)
Compact and robust base frame for safe installation of the controls.
The new ITEM KH 40x40 profile enables an anthracite-colored frame that is perfectly suitable for living rooms.
The equipment with rear castors and a handle at the front enables easy "maneuvering" and "parking" of the frame.
In operation, the frame stands on 8 feet.
By using profiles with a groove and the ingenious clamping system with the ITEM universal connectors, the positions of the pedal and cyclic level in relation to the seat can be easily adjusted to the body size.
Racing seat shells or the recommended smart seat result in a seat height of approx. 33-35 cm to the pedal level, which corresponds to most real helicopters.
2 side frames allow for height-adjustable side plates. Additional switching and control elements can be placed on the left and a keyboard and mouse can be attached to the right.
The Cyclic base plate can accommodate all 3 available variants of our Cyclic mechanisms
damped, easy centering (oil-filled dampers, removable springs)
Spring centering with magnetically adjustable zero point
Beep trim with centering adjustable via stepper motors

for a realistically working FTR (Force Trim Release) system
The pedal plate has the cutout for the EC-135/145 pedals, but can also be used directly for the Bell 206 series thanks to the aluminum heel pads.
The UH-1 pedals unfortunately need an additional bracket.
The pedals in the UH-60 Blackhawk style also have stepless brake plates for wheel trolleys (Sim)

2 individual axes with gas pressure spring, approx. 5kg foot force
The collective level can be adapted to the different types through the HPL plate on the profile.
Currently all existing helicopter types can be combined with the frame.
A seat shell or a car seat is required to complete it. Axial dimension of the fastening 405mm.
We recommend a Smart 450 seat, where even the seat rail can be used with minimal adjustments.
Individualized platforms can also be delivered, please inquire.
---
---
---