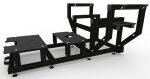 HCF-HeliCockpit Frame
Single Seat Chassis (Kit)
Compact and robust base frame for safe installation of the controls.
All control positions are adjustable but still secure.
To complete a seat or a car seat is needed.
We recommend a Smart 450 seat, the seat rail of which can be used thanks to our frame size of 405 mm.
Otherwise, racing seats fit with a hole spacing of 405 mm.
The basic version already contains:
the collective base

Collective with mechanically adjustable brake, which enables safe adjustment to the mounted handle.

the damped and spring-loaded basic mechanics for the Cyclic-Stick

+ different expansion levels

Bell 206 style pedals

damped, without centering (oil filled damper)

the necessary axis controller with USB connection for the PC
the Collective Basis and the Cyclic Basis still have to be completed with the individual control sticks.

By choosing the profiles of the ITEM Series 6 30x30 a slim profile with high load capacity is available.
The resulting frame also offers a sleek look with high strength, making the simulator fit well into the living environment.

In addition to the control sticks, the cyclic expansion level can also be selected in the configurator.

The UH-60 Blackhawk style pedals also have stepless brake plates for wheel chassis (Sim)
2 individual axles with gas pressure spring, approx. 5kg foot force

Cyclic gimbal
damped, easy centering (oil filled dampers, removable springs)

Spring centering with magnetically adjustable zero pink
Beep-Trim with centering adjustable via stepper motors
The maximum configuration level of the control elements thus offers a realistic FTR (Force Trim Release) system.

Individualized platforms can also be supplied, please inquire for this.