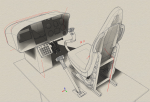 Home Cockpit (1:1)
Parts for homecockpits

controls
panels
switches
all controls will be delivered built and completed with sets of switches.
Ready for the LEO Bodnar USB controller and button boards.

Almost all of the 3D-print parts are printed in SLS printing in polyamide powder.
Most mechanics printed parts are delivered in their material color.
Most visible parts, such as handles and collective boxes, are primed and painted matt black.

The aluminum tubes for the sticks are delivered bead-blasted.

All off our controls are divided in to two parts:

1. the mechanical base with the position sensors, where we use contactless Hall-Sensor with magnets. Most with an additional gear to increase the resolution. 20° stickmovement will result in nearly 130° magnet movement. The sensors are wired to plug into an controller board (Bodnar Board for example).

2. the sticks themselves with matching tube. The stick grips are with high quality button and switches, wired with high grade industrial cable.
same for the pedals, because we deliver several types of them.
extended warranty

:
microHELIS.de grants a warranty guarantee for the Home-Cockpit products for a period of 10 years from the date of purchase.
This guarantee is valid worldwide from 2019, assuming normal, appropriate use of the products.
If a problem occurs with the product within the specified period, we will fix it together with the customer.
After a detailed description of the problem, we decide together with the customer how to proceed.
If the customer trusts himself to do his own repair, we will only send the necessary spare parts.
For this only the postage costs apply.
If the customer decides to have us carry out maintenance and repairs, he will send us the product at his own expense, including return shipping.
We subject the product to a complete inspection, with defective or worn parts being replaced free of charge.
Any upgrades available by then can be installed after consultation with the customer.
In any case, the product will function properly again.
When you send the product, please pack it in such a way that it will not suffer any further damage during transport and send it together with a copy of the invoice to the following address:
Passstr. 138
52070 Aachen
Germany
We will then send the repaired product back to your shipping address.


The customer only has to pay for the shipping costs in both directions.
Please note:
Your statutory rights to material defects, which you are entitled to for a period of two years from delivery of the purchased item, are not restricted by the above guarantee. The legal rights of material defects are regulated in §437 BGB.
We are working on the

expansion of the range

permanently

.


Please

report

your

wishes.