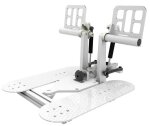 MRO-single-Bases
MRO stands for metal, rough operation.
This describes the basic single seat units that are also suitable for rough operation with changing users.

All heavily loaded metal parts are made of AlMg4.5Mn (5083).
Plastic parts are printed from PA12 with SLS laser process, which gives the design a great deal of flexibility with high load capacity.
For the other components, high-quality parts in industrial quality are used.
For example,
Precision ball bearing from Japan
Plastic plain bearings from the world's leading supplier
High-strength fitting screws and shafts for the axles

I'm so convinced of these mechanics, that even wear parts are exchanged up to 10 years after buying.
In addition, I also offer a complete overhaul within the same time period.
For only shipping fees.

Exceptions are only damage through intentional misuse and vandalism.
But even for these cases a repair solution could be found.
---
---
---